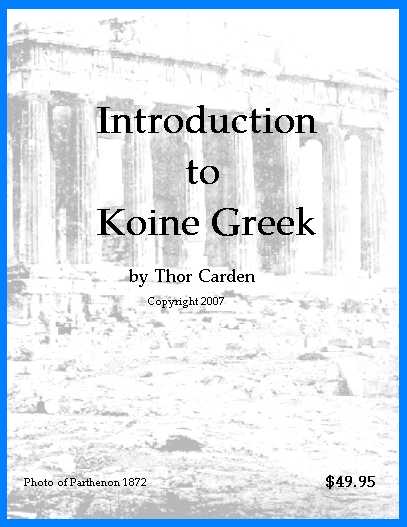 "Introduction to Koiné Greek" is a unique new approach to learning the Greek that was originally used to write the New Testament. The course (divided into 180 lessons) takes the student very quickly into translating the entire First Epistle of John. Most of the concepts used in translation are then learned by example while the student is also gaining new insights into God's beautiful words. This course (14 booklets) contains everything you will need to translate the entire First Epistle of John into English. It includes a copy of the Greek text and all the reference materials necessary to render it into sensible English. Although designed to be used for home schooled High School students it may be used equally well as a self-study guide for adults or in a classroom. $49.95.
To purchase the book on-line go to http://www.familychristianacademy.com/OnlineBookstore.htm and scroll to the bottom of the page.
Site licenses are available for churches or schools for $100 plus $5 per student. The book is provided in loose leaf format ready to photocopy. Contact the author at 615 594-2269.
The course includes:
Teacher's Guide - Complete instructions for the teacher. Also has the answers to all the quizzes and tests. (See Sample)
Lesson Guides 1, 2 & 3 - 180 lessons to guide the student through the course (See sample and Table of Contents)
Exercise Answers - answers to all the exercises in the Lesson Guides
Quizzes - to be retained by the teacher and given out at the proper time.
Tests - to be retained by the teacher and given out at the proper time.
Reference Materials - the Greek text of I John, a Parsing Guide for all the words in I John, a Lexicon for all the words in I John, various other study charts and easy reference guides.
Translation Hints 1, 2 & 3 - hints for all 105 verses in I John to get the student started in translation.
Translation Guide 1, 2 & 3 - the translation of each verse in I John is shown step-by-step along with the English translation in several versions so the student and/or teacher can check the student's translation when it is complete.